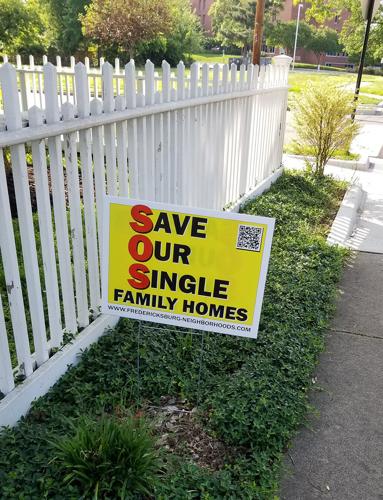 The mission
The mission of the Fredericksburg Neighborhood Coalition is to improve the quality of life of life for the Fredericksburg area residents through addressing issues with various topics, such as; housing (save our single family homes initiative), transportation and economic development. This organization aims to help with these problems by promoting policies and initiatives that overall improve the health and well being of local residents.
The Evaluation
When reading on this topic, it seems as though the the Fredericksburg coalition has a main agenda right now concerning the "Save Single Family Homes" initiative. The Coalition has also made signs that say Save Our Single family homes, to help raise awareness, this sign has the SOS in bold letters to attract a sense of urgency to the cause. (See photo above) With this being said the two main found two articles and this article by local architect that provides some helpful back ground information . While this article contains some biases in support of the ADUs, the content is informative.
The next article that was found in hopes to provide some credibility was one posted by MyHyperbole which inspects the legitimacy of the Coalitions website. This article points out some major flaws such as the images portrayed are not 100% accurate as to what the use of ADU's will look like. For example the article critics the images of huge cranes that are lowering in beat up shipping labels. The article makes a point to highlight that the ADUs are could be placed in high density areas.
Conclusion
While the Fredericksburg Neighborhood Coalition sounds like a great resource for members of the community to seek support and resources for issues they have within the community, the website seems a little one sided and does not seem to paint the full picture. As stated in the MyHyperbole article the images of dingy, old and beat up shipping containers being placed into someones backyard is not the most appealing thing to have, and the website uses that to help turn people against them. The other website does a good job at outlining how the introductions of ADU's can have beneficial outcomes to the community.